About Us
Ebor Balti is a Indian takeaway in York. Why don't you try our Dansak or Sindaloo?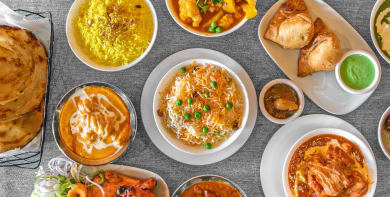 Reviews
249 reviews
Daz
"Good all round as usual"
08/05/2021
Stevie-Anne
"Amazing customer service, food was still piping hot, tasted delicious and worth the money! The only place we order from because we know we won't be disappointed :)"
05/05/2021
m
"Really lovely food as normal"
01/05/2021
Garry
"Wow just wow, great meal lovely spice will use again"
30/04/2021
Menu
Hariyali Chicken Kebab Starter
Chicken pieces marinated in green paste of spinach & coriander, skewered & baked in the tandoori
£2.90
Prawn Butterfly
Large prawns delicately cooked with light spices, breadcrumbs & deep fried with butter
£3.10
Mixed Kebab Starter
An assortment of seekh kebab, shami kebab & onion bhaji
£3.10
Pickle Tray
Onion salad, mango chutney, lime pickle
£1.40
Fish Biran Starters
Slightly spiced traditional pieces of fish, fried in butter with onions
£3.10
Tikka Starter Chicken
Marinated chicken or lamb cooked with onion & green pepper
£2.90
Tikka Starter Lamb
Marinated chicken or lamb cooked with onion & green pepper
£2.90
Tandoori Chicken Starter Starters
£2.70
Tandoori Chicken (2 Pieces)
£5.70
Tikka Main Chicken
Marinated chicken or lamb cooked with onion & green pepper
£5.90
Tikka Main Lamb
Marinated chicken or lamb cooked with onion & green pepper
£5.90
Tandoori King Prawn
Marinated king prawn cooked with onion & green pepper
£8.90
Tandoori Mixed Grill
Chicken tikka, lamb tikka, tandoori chicken & seekh kebab
£8.10
Bhuna Mixed Vegetable
A dish of medium strength & dry consistency as compared with curry
£5.40
Bhuna Chicken
A dish of medium strength & dry consistency as compared with curry
£5.70
Bhuna Lamb
A dish of medium strength & dry consistency as compared with curry
£5.70
Bhuna Chicken Keema
A dish of medium strength & dry consistency as compared with curry
£6.50
Bhuna Lamb Keema
A dish of medium strength & dry consistency as compared with curry
£6.50
Bhuna Chicken Tikka
A dish of medium strength & dry consistency as compared with curry
£6.60
Bhuna Lamb Tikka
A dish of medium strength & dry consistency as compared with curry
£6.60
Bhuna Tandoori Chicken
A dish of medium strength & dry consistency as compared with curry
£6.60
Bhuna Prawn
A dish of medium strength & dry consistency as compared with curry
£6.70
Bhuna King Prawn
A dish of medium strength & dry consistency as compared with curry
£8.20
Korma Mixed Vegetable
A very mild dish cooked in a creamy sauce. Suitable for beginners
£5.40
Korma Chicken
A very mild dish cooked in a creamy sauce. Suitable for beginners
£5.70
Korma Lamb
A very mild dish cooked in a creamy sauce. Suitable for beginners
£5.70
Korma Chicken Keema
A very mild dish cooked in a creamy sauce. Suitable for beginners
£6.50
Korma Lamb Keema
A very mild dish cooked in a creamy sauce. Suitable for beginners
£6.50
Korma Chicken Tikka
A very mild dish cooked in a creamy sauce. Suitable for beginners
£6.60
Korma Lamb Tikka
A very mild dish cooked in a creamy sauce. Suitable for beginners
£6.60
Korma Tandoori Chicken
A very mild dish cooked in a creamy sauce. Suitable for beginners
£6.60
Korma Prawn
A very mild dish cooked in a creamy sauce. Suitable for beginners
£6.70
Korma King Prawn
A very mild dish cooked in a creamy sauce. Suitable for beginners
£8.20
Dopiaza Mixed Vegetable
A dry consistency dish with lots of onions
£5.40
Dopiaza Chicken
A dry consistency dish with lots of onions
£5.70
Dopiaza Lamb
A dry consistency dish with lots of onions
£5.70
Dopiaza Chicken Keema
A dry consistency dish with lots of onions
£6.50
Dopiaza Lamb Keema
A dry consistency dish with lots of onions
£6.50
Dopiaza Chicken Tikka
A dry consistency dish with lots of onions
£6.60
Dopiaza Lamb Tikka
A dry consistency dish with lots of onions
£6.60
Dopiaza Tandoori Chicken
A dry consistency dish with lots of onions
£6.60
Dopiaza Prawn
A dry consistency dish with lots of onions
£6.70
Dopiaza King Prawn
A dry consistency dish with lots of onions
£8.20
Rogan Josh Mixed Vegetable
A slightly tangy dish with tomatoes & medium hot spices
£5.40
Rogan Josh Chicken
A slightly tangy dish with tomatoes & medium hot spices
£5.70
Rogan Josh Lamb
A slightly tangy dish with tomatoes & medium hot spices
£5.70
Rogan Josh Chicken Keema
A slightly tangy dish with tomatoes & medium hot spices
£6.50
Rogan Josh Lamb Keema
A slightly tangy dish with tomatoes & medium hot spices
£6.50
Rogan Josh Chicken Tikka
A slightly tangy dish with tomatoes & medium hot spices
£6.60
Rogan Josh Lamb Tikka
A slightly tangy dish with tomatoes & medium hot spices
£6.60
Rogan Josh Tandoori Chicken
A slightly tangy dish with tomatoes & medium hot spices
£6.60
Rogan Josh Prawn
A slightly tangy dish with tomatoes & medium hot spices
£6.70
Rogan Josh King Prawn
A slightly tangy dish with tomatoes & medium hot spices
£8.20
Madras Mixed Vegetable
A hot dish cooked in madras spicy sauce
£5.40
Madras Chicken
A hot dish cooked in madras spicy sauce
£5.70
Madras Lamb
A hot dish cooked in madras spicy sauce
£5.70
Madras Chicken Keema
A hot dish cooked in madras spicy sauce
£6.50
Madras Lamb Keema
A hot dish cooked in madras spicy sauce
£6.50
Madras Chicken Tikka
A hot dish cooked in madras spicy sauce
£6.60
Madras Lamb Tikka
A hot dish cooked in madras spicy sauce
£6.60
Madras Tandoori Chicken
A hot dish cooked in madras spicy sauce
£6.60
Madras Prawn
A hot dish cooked in madras spicy sauce
£6.70
Madras King Prawn
A hot dish cooked in madras spicy sauce
£8.20
Vindaloo Mixed Vegetable
A very hot dish cooked in a very hot spicy sauce with pieces of potato
£5.40
Vindaloo Chicken
A very hot dish cooked in a very hot spicy sauce with pieces of potato
£5.70
Vindaloo Lamb
A very hot dish cooked in a very hot spicy sauce with pieces of potato
£5.70
Vindaloo Chicken Keema
A very hot dish cooked in a very hot spicy sauce with pieces of potato
£6.50
Vindaloo Lamb Keema
A very hot dish cooked in a very hot spicy sauce with pieces of potato
£6.50
Vindaloo Chicken Tikka
A very hot dish cooked in a very hot spicy sauce with pieces of potato
£6.60
Vindaloo Lamb Tikka
A very hot dish cooked in a very hot spicy sauce with pieces of potato
£6.60
Vindaloo Tandoori Chicken
A very hot dish cooked in a very hot spicy sauce with pieces of potato
£6.60
Vindaloo Prawn
A very hot dish cooked in a very hot spicy sauce with pieces of potato
£6.70
Vindaloo King Prawn
A very hot dish cooked in a very hot spicy sauce with pieces of potato
£8.20
Dansak Mixed Vegetable
Originally a Persian dish, common in Bombay. The chicken etc, is cooked with lentils to a slightly hot & sour taste
£5.40
Dansak Chicken
Originally a Persian dish, common in Bombay. The chicken etc, is cooked with lentils to a slightly hot & sour taste
£5.70
Dansak Lamb
Originally a Persian dish, common in Bombay. The chicken etc, is cooked with lentils to a slightly hot & sour taste
£5.70
Dansak Chicken Keema
Originally a Persian dish, common in Bombay. The chicken etc, is cooked with lentils to a slightly hot & sour taste
£6.50
Dansak Lamb Keema
Originally a Persian dish, common in Bombay. The chicken etc, is cooked with lentils to a slightly hot & sour taste
£6.50
Dansak Chicken Tikka
Originally a Persian dish, common in Bombay. The chicken etc, is cooked with lentils to a slightly hot & sour taste
£6.60
Dansak Lamb Tikka
Originally a Persian dish, common in Bombay. The chicken etc, is cooked with lentils to a slightly hot & sour taste
£6.60
Dansak Tandoori Chicken
Originally a Persian dish, common in Bombay. The chicken etc, is cooked with lentils to a slightly hot & sour taste
£6.60
Dansak Prawn
Originally a Persian dish, common in Bombay. The chicken etc, is cooked with lentils to a slightly hot & sour taste
£6.70
Dansak King Prawn
Originally a Persian dish, common in Bombay. The chicken etc, is cooked with lentils to a slightly hot & sour taste
£8.20
Biryani Mixed Vegetable
Chicken ets, is fried in spiced ghee with coconut & rice. Garnished with tomatoes. All biryani dishes accompanied by a vegetable curry dish
£6.50
Biryani Chicken
Chicken ets, is fried in spiced ghee with coconut & rice. Garnished with tomatoes. All biryani dishes accompanied by a vegetable curry dish
£6.60
Biryani Lamb
Chicken ets, is fried in spiced ghee with coconut & rice. Garnished with tomatoes. All biryani dishes accompanied by a vegetable curry dish
£6.60
Biryani Chicken Keema
Chicken ets, is fried in spiced ghee with coconut & rice. Garnished with tomatoes. All biryani dishes accompanied by a vegetable curry dish
£7.50
Biryani Lamb Keema
Chicken ets, is fried in spiced ghee with coconut & rice. Garnished with tomatoes. All biryani dishes accompanied by a vegetable curry dish
£7.50
Biryani Chicken Tikka
Chicken ets, is fried in spiced ghee with coconut & rice. Garnished with tomatoes. All biryani dishes accompanied by a vegetable curry dish
£7.60
Biryani Lamb Tikka
Chicken ets, is fried in spiced ghee with coconut & rice. Garnished with tomatoes. All biryani dishes accompanied by a vegetable curry dish
£7.60
Biryani Prawn
Chicken ets, is fried in spiced ghee with coconut & rice. Garnished with tomatoes. All biryani dishes accompanied by a vegetable curry dish
£7.60
Biryani Tandoori Chicken
Chicken ets, is fried in spiced ghee with coconut & rice. Garnished with tomatoes. All biryani dishes accompanied by a vegetable curry dish
£7.60
Biryani King Prawn
Chicken ets, is fried in spiced ghee with coconut & rice. Garnished with tomatoes. All biryani dishes accompanied by a vegetable curry dish
£9.10
Chef's Special Chicken
Marinated chicken or lamb cooked with garlic, green pepper, shatkora, onions & keema
£7.90
Chef's Special Lamb
Marinated chicken or lamb cooked with garlic, green pepper, shatkora, onions & keema
£7.90
Karahi Chicken
Medium spiced pieces of boneless chicken or lamb, cooked with onions, tomatoes & capsicums in a karahi
Medium
£7.60
Karahi Lamb
Medium spiced pieces of boneless chicken or lamb, cooked with onions, tomatoes & capsicums in a karahi
Medium
£7.60
Hariyali Murgh Masala
Marinated chicken cooked in a sauce of spinach,  mint & coriander puree to create a taste that truly melts in your mouth
Mild
£7.60
Tandoori Butter Chicken
Marinated chicken cooked with butter, almonds & fresh cream
Mild
£7.60
Tikka Masala Main Chicken Tikka
Chicken or lamb tikka cooked in a sauce of fresh cream, yoghurt & homemade tomato ketchup
Mild
£7.60
Tikka Masala Main Lamb Tikka
Chicken or lamb tikka cooked in a sauce of fresh cream, yoghurt & homemade tomato ketchup
Mild
£7.60
Mixed Tandoori Masala
A combination of tandoori chicken, chicken tikka, lamb tikka & kebab cooked in a sauce of fresh cream yoghurt & homemade tomato ketchup
Mild
£7.90
Tandoori King Prawn Masala
Marinated king prawn cooked in a sauce of fresh cream yoghurt & homemade tomato ketchup
Mild
£9.60
Makhani
Tandoori chicken pieces off the bone, smeared in a creamy tomato sauce, flavoured with fenugreek
Mild
£7.60
Kalinzi Chicken
Marinated chicken or lamb, cooked with fresh garlic, green chillies & capsicums
Fairly hot
£7.60
Kalinzi Lamb
Marinated chicken or lamb, cooked with fresh garlic, green chillies & capsicums
Fairly hot
£7.60
Pasanda Chicken
Marinated chicken or lamb cooked in a mild sauce of fruit juice with almonds, coconut, butter & cream
Mild
£7.60
Pasanda Lamb
Marinated chicken or lamb cooked in a mild sauce of fruit juice with almonds, coconut, butter & cream
Mild
£7.60
Jalfrezi Chicken
Marinated chicken or lamb cooked with onions, green peppers & fresh green chillies
Hot
£7.60
Jalfrezi Lamb
Marinated chicken or lamb cooked with onions, green peppers & fresh green chillies
Hot
£7.60
Pathia Chicken
A hot sweet & sour dish of marinated chicken or lamb cooked with chillies, brown sugar & lemon juice
Hot
£7.60
Pathia Lamb
A hot sweet & sour dish of marinated chicken or lamb cooked with chillies, brown sugar & lemon juice
Hot
£7.60
Tandoori Palong
Off the bone tandoori chicken cooked with a large quantity of garlic to create a very distinguished, aromatic flavour
Medium
£7.60
Tandoori King Prawn Karahi
Marinated jumbo prawns cooked with onions, tomatoes & green peppers in a karahi
Medium
£9.60
Sindaloo Chicken
Diced chicken or lamb cooked in a extra hot sauce with red fry chillies, not suitable for the faint hearted
Extremely hot
£6.50
Sindaloo Lamb
Diced chicken or lamb cooked in a extra hot sauce with red fry chillies, not suitable for the faint hearted
Extremely hot
£6.50
Fish Palong
Pieces of traditional fish cooked with a large quantity of garlic for a truly aromatic taste
Medium
£7.60
Fish Achari
This unique fish dish is truly similar to the traditional way of cooking with herbs, spices & some pickles
Slightly hot
£7.60
King Prawn & Vegetable Balti
£9.30
Tropical Balti
Combination of prawn, king prawn, marinated chicken & lamb
£8.60
Tandoori King Prawn & Spinach Balti
£9.70
Jaflongi Chicken Balti (Hot)
Marinated chicken, cooked in a hot spicy tangy sauce, with fresh green chiliies & tomatoes
£8.40
Chicken Tikka & Vegetable Balti
£8.40
Lamb Tikka & Garlic Balti
£8.40
Tandoori Chicken & Mushroom Balti
£8.40
Mixed Tandoori Balti
Combination of chicken tikka, lamb tikka, tandoori chicken & kebab
£8.60
Tandoori King Prawn Balti
£9.50
Tandoori Achari Balti (Hot)
Off the bone tandoori chicken. Cooked in a hot & sour sauce with shatkora & worcester sauce
£8.00
Chicken Tikka & Chips
Green peppers, onions & cheese
£5.90
Lamb Tikka & Chips
Green peppers, onions & cheese
£5.90
Contact Us
Find Us
Clifton Gate Business Park, Wigginton Road, York, YO322RH
We deliver to
YO30, YO31, YO32