About Us
Ebor Balti is a Indian takeaway in York. Why don't you try our Dansak or Sindaloo?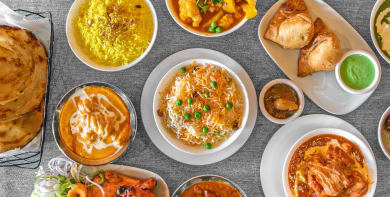 Reviews
223 reviews
Peter
"It's been so long since i've eaten any Indian cuisine. Definitely worth the wait and every penny! Can cater for dairy intolerances too so will definitely be treating the Mrs to one also!"
16/07/2021
Aidy
"Great place to get food. Highly recommend"
14/07/2021
Lee
"This 3rd time now and this has become my favourite Indian takeout"
10/07/2021
Sabrina
"5 star takeaway. Always so tasty and delivered hot with a smile. Thank you all! Sabrina and Rich."
04/07/2021
Menu
Coca-Cola Original Taste 330ml Can
£0.90
Hariyali Chicken Kebab Starter
Chicken pieces marinated in green paste of spinach & coriander, skewered & baked in the tandoori
£2.90
Prawn Butterfly
Large prawns delicately cooked with light spices, breadcrumbs & deep fried with butter
£3.10
Mixed Kebab Starter
An assortment of seekh kebab, shami kebab & onion bhaji
£3.10
Pickle Tray
Onion salad, mango chutney, lime pickle
£1.40
Fish Biran Starters
Slightly spiced traditional pieces of fish, fried in butter with onions
£3.10
Tikka Starter Chicken
Marinated chicken or lamb cooked with onion & green pepper
£2.90
Tikka Starter Lamb
Marinated chicken or lamb cooked with onion & green pepper
£2.90
Tandoori Chicken Starter Starters
£2.70
Tandoori Chicken (2 Pieces)
£5.70
Tikka Main Chicken
Marinated chicken or lamb cooked with onion & green pepper
£5.90
Tikka Main Lamb
Marinated chicken or lamb cooked with onion & green pepper
£5.90
Tandoori King Prawn
Marinated king prawn cooked with onion & green pepper
£8.90
Tandoori Mixed Grill
Chicken tikka, lamb tikka, tandoori chicken & seekh kebab
£8.10
Bhuna Mixed Vegetable
A dish of medium strength & dry consistency as compared with curry
£5.40
Bhuna Chicken
A dish of medium strength & dry consistency as compared with curry
£5.70
Bhuna Lamb
A dish of medium strength & dry consistency as compared with curry
£5.70
Bhuna Chicken Keema
A dish of medium strength & dry consistency as compared with curry
£6.50
Bhuna Lamb Keema
A dish of medium strength & dry consistency as compared with curry
£6.50
Bhuna Chicken Tikka
A dish of medium strength & dry consistency as compared with curry
£6.60
Bhuna Lamb Tikka
A dish of medium strength & dry consistency as compared with curry
£6.60
Bhuna Tandoori Chicken
A dish of medium strength & dry consistency as compared with curry
£6.60
Bhuna Prawn
A dish of medium strength & dry consistency as compared with curry
£6.70
Bhuna King Prawn
A dish of medium strength & dry consistency as compared with curry
£8.20
Korma Mixed Vegetable
A very mild dish cooked in a creamy sauce. Suitable for beginners
£5.40
Korma Chicken
A very mild dish cooked in a creamy sauce. Suitable for beginners
£5.70
Korma Lamb
A very mild dish cooked in a creamy sauce. Suitable for beginners
£5.70
Korma Chicken Keema
A very mild dish cooked in a creamy sauce. Suitable for beginners
£6.50
Korma Lamb Keema
A very mild dish cooked in a creamy sauce. Suitable for beginners
£6.50
Korma Chicken Tikka
A very mild dish cooked in a creamy sauce. Suitable for beginners
£6.60
Korma Lamb Tikka
A very mild dish cooked in a creamy sauce. Suitable for beginners
£6.60
Korma Tandoori Chicken
A very mild dish cooked in a creamy sauce. Suitable for beginners
£6.60
Korma Prawn
A very mild dish cooked in a creamy sauce. Suitable for beginners
£6.70
Korma King Prawn
A very mild dish cooked in a creamy sauce. Suitable for beginners
£8.20
Dopiaza Mixed Vegetable
A dry consistency dish with lots of onions
£5.40
Dopiaza Chicken
A dry consistency dish with lots of onions
£5.70
Dopiaza Lamb
A dry consistency dish with lots of onions
£5.70
Dopiaza Chicken Keema
A dry consistency dish with lots of onions
£6.50
Dopiaza Lamb Keema
A dry consistency dish with lots of onions
£6.50
Dopiaza Chicken Tikka
A dry consistency dish with lots of onions
£6.60
Dopiaza Lamb Tikka
A dry consistency dish with lots of onions
£6.60
Dopiaza Tandoori Chicken
A dry consistency dish with lots of onions
£6.60
Dopiaza Prawn
A dry consistency dish with lots of onions
£6.70
Dopiaza King Prawn
A dry consistency dish with lots of onions
£8.20
Rogan Josh Mixed Vegetable
A slightly tangy dish with tomatoes & medium hot spices
£5.40
Rogan Josh Chicken
A slightly tangy dish with tomatoes & medium hot spices
£5.70
Rogan Josh Lamb
A slightly tangy dish with tomatoes & medium hot spices
£5.70
Rogan Josh Chicken Keema
A slightly tangy dish with tomatoes & medium hot spices
£6.50
Rogan Josh Lamb Keema
A slightly tangy dish with tomatoes & medium hot spices
£6.50
Rogan Josh Chicken Tikka
A slightly tangy dish with tomatoes & medium hot spices
£6.60
Rogan Josh Lamb Tikka
A slightly tangy dish with tomatoes & medium hot spices
£6.60
Rogan Josh Tandoori Chicken
A slightly tangy dish with tomatoes & medium hot spices
£6.60
Rogan Josh Prawn
A slightly tangy dish with tomatoes & medium hot spices
£6.70
Rogan Josh King Prawn
A slightly tangy dish with tomatoes & medium hot spices
£8.20
Madras Mixed Vegetable
A hot dish cooked in madras spicy sauce
£5.40
Madras Chicken
A hot dish cooked in madras spicy sauce
£5.70
Madras Lamb
A hot dish cooked in madras spicy sauce
£5.70
Madras Chicken Keema
A hot dish cooked in madras spicy sauce
£6.50
Madras Lamb Keema
A hot dish cooked in madras spicy sauce
£6.50
Madras Chicken Tikka
A hot dish cooked in madras spicy sauce
£6.60
Madras Lamb Tikka
A hot dish cooked in madras spicy sauce
£6.60
Madras Tandoori Chicken
A hot dish cooked in madras spicy sauce
£6.60
Madras Prawn
A hot dish cooked in madras spicy sauce
£6.70
Madras King Prawn
A hot dish cooked in madras spicy sauce
£8.20
Vindaloo Mixed Vegetable
A very hot dish cooked in a very hot spicy sauce with pieces of potato
£5.40
Vindaloo Chicken
A very hot dish cooked in a very hot spicy sauce with pieces of potato
£5.70
Vindaloo Lamb
A very hot dish cooked in a very hot spicy sauce with pieces of potato
£5.70
Vindaloo Chicken Keema
A very hot dish cooked in a very hot spicy sauce with pieces of potato
£6.50
Vindaloo Lamb Keema
A very hot dish cooked in a very hot spicy sauce with pieces of potato
£6.50
Vindaloo Chicken Tikka
A very hot dish cooked in a very hot spicy sauce with pieces of potato
£6.60
Vindaloo Lamb Tikka
A very hot dish cooked in a very hot spicy sauce with pieces of potato
£6.60
Vindaloo Tandoori Chicken
A very hot dish cooked in a very hot spicy sauce with pieces of potato
£6.60
Vindaloo Prawn
A very hot dish cooked in a very hot spicy sauce with pieces of potato
£6.70
Vindaloo King Prawn
A very hot dish cooked in a very hot spicy sauce with pieces of potato
£8.20
Dansak Mixed Vegetable
Originally a Persian dish, common in Bombay. The chicken etc, is cooked with lentils to a slightly hot & sour taste
£5.40
Dansak Chicken
Originally a Persian dish, common in Bombay. The chicken etc, is cooked with lentils to a slightly hot & sour taste
£5.70
Dansak Lamb
Originally a Persian dish, common in Bombay. The chicken etc, is cooked with lentils to a slightly hot & sour taste
£5.70
Dansak Chicken Keema
Originally a Persian dish, common in Bombay. The chicken etc, is cooked with lentils to a slightly hot & sour taste
£6.50
Dansak Lamb Keema
Originally a Persian dish, common in Bombay. The chicken etc, is cooked with lentils to a slightly hot & sour taste
£6.50
Dansak Chicken Tikka
Originally a Persian dish, common in Bombay. The chicken etc, is cooked with lentils to a slightly hot & sour taste
£6.60
Dansak Lamb Tikka
Originally a Persian dish, common in Bombay. The chicken etc, is cooked with lentils to a slightly hot & sour taste
£6.60
Dansak Tandoori Chicken
Originally a Persian dish, common in Bombay. The chicken etc, is cooked with lentils to a slightly hot & sour taste
£6.60
Dansak Prawn
Originally a Persian dish, common in Bombay. The chicken etc, is cooked with lentils to a slightly hot & sour taste
£6.70
Dansak King Prawn
Originally a Persian dish, common in Bombay. The chicken etc, is cooked with lentils to a slightly hot & sour taste
£8.20
Biryani Mixed Vegetable
Chicken ets, is fried in spiced ghee with coconut & rice. Garnished with tomatoes. All biryani dishes accompanied by a vegetable curry dish
£6.50
Biryani Chicken
Chicken ets, is fried in spiced ghee with coconut & rice. Garnished with tomatoes. All biryani dishes accompanied by a vegetable curry dish
£6.60
Biryani Lamb
Chicken ets, is fried in spiced ghee with coconut & rice. Garnished with tomatoes. All biryani dishes accompanied by a vegetable curry dish
£6.60
Biryani Chicken Keema
Chicken ets, is fried in spiced ghee with coconut & rice. Garnished with tomatoes. All biryani dishes accompanied by a vegetable curry dish
£7.50
Biryani Lamb Keema
Chicken ets, is fried in spiced ghee with coconut & rice. Garnished with tomatoes. All biryani dishes accompanied by a vegetable curry dish
£7.50
Biryani Chicken Tikka
Chicken ets, is fried in spiced ghee with coconut & rice. Garnished with tomatoes. All biryani dishes accompanied by a vegetable curry dish
£7.60
Biryani Lamb Tikka
Chicken ets, is fried in spiced ghee with coconut & rice. Garnished with tomatoes. All biryani dishes accompanied by a vegetable curry dish
£7.60
Biryani Prawn
Chicken ets, is fried in spiced ghee with coconut & rice. Garnished with tomatoes. All biryani dishes accompanied by a vegetable curry dish
£7.60
Biryani Tandoori Chicken
Chicken ets, is fried in spiced ghee with coconut & rice. Garnished with tomatoes. All biryani dishes accompanied by a vegetable curry dish
£7.60
Biryani King Prawn
Chicken ets, is fried in spiced ghee with coconut & rice. Garnished with tomatoes. All biryani dishes accompanied by a vegetable curry dish
£9.10
Chef's Special Chicken
Marinated chicken or lamb cooked with garlic, green pepper, shatkora, onions & keema
£7.90
Chef's Special Lamb
Marinated chicken or lamb cooked with garlic, green pepper, shatkora, onions & keema
£7.90
Karahi Chicken
Medium spiced pieces of boneless chicken or lamb, cooked with onions, tomatoes & capsicums in a karahi
Medium
£7.60
Karahi Lamb
Medium spiced pieces of boneless chicken or lamb, cooked with onions, tomatoes & capsicums in a karahi
Medium
£7.60
Hariyali Murgh Masala
Marinated chicken cooked in a sauce of spinach,  mint & coriander puree to create a taste that truly melts in your mouth
Mild
£7.60
Tandoori Butter Chicken
Marinated chicken cooked with butter, almonds & fresh cream
Mild
£7.60
Tikka Masala Main Chicken Tikka
Chicken or lamb tikka cooked in a sauce of fresh cream, yoghurt & homemade tomato ketchup
Mild
£7.60
Tikka Masala Main Lamb Tikka
Chicken or lamb tikka cooked in a sauce of fresh cream, yoghurt & homemade tomato ketchup
Mild
£7.60
Mixed Tandoori Masala
A combination of tandoori chicken, chicken tikka, lamb tikka & kebab cooked in a sauce of fresh cream yoghurt & homemade tomato ketchup
Mild
£7.90
Tandoori King Prawn Masala
Marinated king prawn cooked in a sauce of fresh cream yoghurt & homemade tomato ketchup
Mild
£9.60
Makhani
Tandoori chicken pieces off the bone, smeared in a creamy tomato sauce, flavoured with fenugreek
Mild
£7.60
Kalinzi Chicken
Marinated chicken or lamb, cooked with fresh garlic, green chillies & capsicums
Fairly hot
£7.60
Kalinzi Lamb
Marinated chicken or lamb, cooked with fresh garlic, green chillies & capsicums
Fairly hot
£7.60
Pasanda Chicken
Marinated chicken or lamb cooked in a mild sauce of fruit juice with almonds, coconut, butter & cream
Mild
£7.60
Pasanda Lamb
Marinated chicken or lamb cooked in a mild sauce of fruit juice with almonds, coconut, butter & cream
Mild
£7.60
Jalfrezi Chicken
Marinated chicken or lamb cooked with onions, green peppers & fresh green chillies
Hot
£7.60
Jalfrezi Lamb
Marinated chicken or lamb cooked with onions, green peppers & fresh green chillies
Hot
£7.60
Pathia Chicken
A hot sweet & sour dish of marinated chicken or lamb cooked with chillies, brown sugar & lemon juice
Hot
£7.60
Pathia Lamb
A hot sweet & sour dish of marinated chicken or lamb cooked with chillies, brown sugar & lemon juice
Hot
£7.60
Tandoori Palong
Off the bone tandoori chicken cooked with a large quantity of garlic to create a very distinguished, aromatic flavour
Medium
£7.60
Tandoori King Prawn Karahi
Marinated jumbo prawns cooked with onions, tomatoes & green peppers in a karahi
Medium
£9.60
Sindaloo Chicken
Diced chicken or lamb cooked in a extra hot sauce with red fry chillies, not suitable for the faint hearted
Extremely hot
£6.50
Sindaloo Lamb
Diced chicken or lamb cooked in a extra hot sauce with red fry chillies, not suitable for the faint hearted
Extremely hot
£6.50
Fish Palong
Pieces of traditional fish cooked with a large quantity of garlic for a truly aromatic taste
Medium
£7.60
Fish Achari
This unique fish dish is truly similar to the traditional way of cooking with herbs, spices & some pickles
Slightly hot
£7.60
King Prawn & Vegetable Balti
£9.30
Tropical Balti
Combination of prawn, king prawn, marinated chicken & lamb
£8.60
Tandoori King Prawn & Spinach Balti
£9.70
Jaflongi Chicken Balti (Hot)
Marinated chicken, cooked in a hot spicy tangy sauce, with fresh green chiliies & tomatoes
£8.40
Chicken Tikka & Vegetable Balti
£8.40
Lamb Tikka & Garlic Balti
£8.40
Tandoori Chicken & Mushroom Balti
£8.40
Mixed Tandoori Balti
Combination of chicken tikka, lamb tikka, tandoori chicken & kebab
£8.60
Tandoori King Prawn Balti
£9.50
Tandoori Achari Balti (Hot)
Off the bone tandoori chicken. Cooked in a hot & sour sauce with shatkora & worcester sauce
£8.00
Chicken Tikka & Chips
Green peppers, onions & cheese
£5.90
Lamb Tikka & Chips
Green peppers, onions & cheese
£5.90
Contact Us
Find Us
Clifton Gate Business Park, Wigginton Road, York, YO322RH
We deliver to
YO30, YO31, YO32